┬╗Mit unserem hervorragendem Netzwerk gestalten wir ganzheitliche Konzepte und nachhaltige Designprojekte.┬ź
┬╗In association with our excellent network we create holistic concepts and sustainable designprojects.┬ź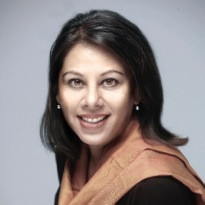 Poonam Choudhry
Creative Director, Designerin, Autorin
Creative Director, Designer, Author
geboren in Neu Delhi, Indien, aufgewachsen in Deutschland
Diplom-Textildesignerin, Studium und Abschluss an der Staatlichen Akademie der Bildenden K├╝nste, Stuttgart bei Professor Leo Wollner und Professor Karl H├Âing
Diplom im Bharata Natyam (indischer Tempeltanz) bei Anjali Sriram
2004-2008 Mitglied AGD und Aufbau der Regionalgruppe Stuttgart
Mitglied im aed (Verein zur F├Ârderung von Architektur, Engineering und Design, GIRT (German Indian Round Table),
seit 2015 DDC Director – Interkulturelles Design, Mitglied DDC (Deutscher Designer Club)
seit 2012 Lehrauftr├Ąge an Hochschulen, u.a. HFG, Hochschule f├╝r Gestaltung Schw├Ąbisch Gm├╝nd
Fachpublikationen in der Designzeitschrift ┬╗form┬ź, bei ┬╗www.der Raumjournalist.de┬ź und ┬╗www.designrhetorik.de┬ź, das fachwissenschaftliche E-Journal der Hochschule f├╝r Gestaltung in Konstanz
h├Ąlt regelm├Ą├čig Vortr├Ąge, u.a. im Design Center Baden W├╝rttemberg, imm K├Âln
Nach ihrem Abschlu├č als Diplom Textildesignerin an der Staatlichen Akademie der bildenden K├╝nste, Stuttgart, an der schon Oskar Schlemmer und Willi Baumeister studierten, war Poonam Choudhry die ersten Jahre f├╝r renommierte Textilverlage t├Ątig.
Im Zuge eines eigenen Designlabels, das sie mit Martin Bargiel gegr├╝ndet hat, entwickelt sich das Thema Interiors f├╝r Messestand und Showroom. Es folgen Produktdesigns f├╝r WMF und M├Âbelkonzeptionen f├╝r renommierte Unternehmen. Nachhaltige und gesunde Raumgestaltung ist ihre Spezialisierung, bei der sie beim Entwerfen die Lehre von Vaastu einbeziehen kann.
Beim Schreiben setzt sie sich mit den Themen ├╝ber Designdenken, Designkritik und Gesellschaft, Architektur und R├Ąume auseinander – im Kontext mit Philosophie. Kontinuierlich verfolgt sie die Entwicklung in Design und Kunst auch in Indien und ist vernetzt. Bei ihren Reisen beobachtet sie intensiv die Entwicklung neuer R├Ąume und Architektur und publiziert dar├╝ber.
Mit ihren interdisziplin├Ąren Erfahrungen, auch als Unternehmerin, ist sie als Creative Director im Designb├╝ro poonamdesigners t├Ątig und hat exzellente F├Ąhigkeiten f├╝r die Entwicklung von Designstrategien und ganzheitlichen Konzeptionen. F├╝r die Indien Woche in Stuttgart entwickelt sie seit 2007 die k├╝nstlerische Konzeption f├╝r die Ausstellungen, bis hin zur Kuration.
born in New Delhi, India, grown up in Germany
Dipl. Designer from State Academy of Arts and Design, Stuttgart (Prof. Wollner, Prof. H├Âing)
Degree in Bharata Natyam from Anjali Sriram
2004-2008 Member AGD, established the regional group in Stuttgart
Member of aed, Stuttgart (society to promote architecture, engineering and design), GIRT (German Indian Round Table)
since 2015 DDC Director – Intercultural Design, Member of DDC (Deutscher Designer Club)
since 2012 Lectureships at universities, e.g HFG, Hochschule f├╝r Gestaltung Schw├Ąbisch Gm├╝nd
Publications in the Design Magazine ÔÇ×formÔÇť, online ÔÇ×www.der raumjournalist.deÔÇť, www.designtheorie.de
gives lectures regularly, e.g. Design Center Baden W├╝rttemberg, imm Cologne

After her degree Diplom in Textile Design from the State Academy of Arts and Design, Stuttgart, at which key personalities as Oskar Schlemmer and Willi Baumeister have studied and tought, Poonam Choudhry was working for a couple of years for renowned home textile companies in Europe.
With the own Designlabel, which she founded with Martin Bargiel, interiors for showroom and exhibition stand emerge.
Followed by designs for WMF and furniture design for renowned furniture design companies. She is specialized on product design and interiors and can involve Vaastu in creating healthy and sustainable spaces.
Her themes in writing are Designthinking, Cultural Design, Society and Architecture in context with philosophy. She observes continuously the development of Design and Art in India and is interconnected. She travels a lot and writes about her journeys on design, new spaces and architecture.
With her interdisciplinary experience, also as an entrepreneur, she is the Creative Director at the Designstudio poonamdesigners and has excellent skills in developing designstrategies and entire concepts. Since 2007 she has been creating continuously as well as the artistic concepts for the exhibitions, as curating them.
┬╗Unsere Herausforderung als Designer ist heute, f├╝r die sich wandelnde Gesellschaft und die Komplexit├Ąt der Themen, vision├Ąre und nachhaltige L├Âsungen zu gestalten.┬ź
┬╗Our challenge in design today is to develop visionary and sustainable solutions for the changing global societies.┬ź

Martin Bargiel
Creative Director, Designer, Dozent
Creative Director, Designer, Teacher
Diplom-Designer, Studium und Abschluss an der Staatlichen Akademie der Bildenden K├╝nste Stuttgart bei den Professoren Heinz Edelmann, Albrecht Ade und G├╝nter Jacki im Fachbereich Grafik-Design
seit 1991 Lehrauftr├Ąge f├╝r Kommunikationsdesign, Fotodesign, Animation, Typografie, Interaktionsdesign und Produktdesign
Studium der Germanistik, Musikwissenschaft und Geschichte an der Eberhard-Karls-Universit├Ąt T├╝bingen und an der FU Berlin
1995-2000 Juniormitglied im BFF (Bund freischaffender Fotodesigner) und Mitglied in der Redaktion der BFF-Juniorb├╝cher
2004-2008 Mitglied im AGD
Mitglied im GIRT (German Indian Round Table)
Sein Wissen ├╝ber Typographie und Kommunikation verbindet Martin Bargiel mit seiner Leidenschaft f├╝r Fotografie und Musik. Mit seinem Abschluss als Kommunikationsdesigner bei Prof. Edelmann, der mit seinen Illustrationen f├╝r den Film Yellow Submarine weltbekannt wurde, hat er f├╝r bekannte Agenturen wie BBDO-Group | Leonhardt & Kern in Stuttgart gearbeitet, f├╝r die er als Fotodesigner Kampagnen von Mustang Jeans umsetzte. Als Art Director entwickelte dort auch das Dachmarkenkonzept f├╝r die BTM (Badische Tabakwaren-Manufaktur) und war verantwortlich f├╝r den Launch der Cigarrenmarke ┬╗La Libertad┬ź. F├╝r das Weltunternehmen BASF SE hat er f├╝r die Unternehmenseinheit ┬╗Dispersions for Adhesives and Construction Europe┬ź das Corporate Design weiterentwickelt und angepasst. Immer am Puls der Zeit mit jungen Menschen, die er an Schulen und Universit├Ąten unterrichtet, entwickelt er im Designb├╝ro poonamdesigners ganzheitliche Grafik Design Projekte, bei der er auf seine breitgef├Ącherte Erfahrung und sein fundiertes Wissen zur├╝ckgreifen kann.
Dipl. Designer from the State Academy of Arts and Design, Stuttgart (Prof. Heinz Edelmann, Albrecht Ade and G├╝nter Jacki)
since 1991 teaching Communicationdesign, Photodesign, Typography, and Productdesign
studied Germanistik, Musicology and History at the Eberhard-Karls-Universit├Ąt T├╝bingen and FU Berlin
1995-2000 Juniormember in BFF (Bund freischaffender Fotodesigner) and member of the editorial team of the BFF Juniorbooks
2004-2008 member in AGD
member in GIRT (German Indian Round Table)

Martin Bargiel combines his knowledge about Typography and Communication with his passion for Photography and Music. He achieved his degree as a Communicationsdesigner from Prof. Heinz Edelmann, who became world-famous with his illustrations for the movie Yellow Submarine. He worked as an Art Director for agencies like BBDO-Group | Leohardt & Kern in Stuttgart, making Foto-campaigns for example for Mustang Jeans. Also he developed a concept for BTM (Badische Tabakwaren-Manufaktur) and was responsible for the relaunch of the brand of the Cigar Company ┬źLa Libertad┬╗. For BASF SE he developed and adapted the Corporate Design for ┬źDispersions for Adhesives and Construction Europe┬╗. He has his fingers on the pulse of time through his teaching young people at high schools and different universities. In their design office poonamdesigners he develops integrated communication design concepts, based on his widespread experience and well-founded knowledge.